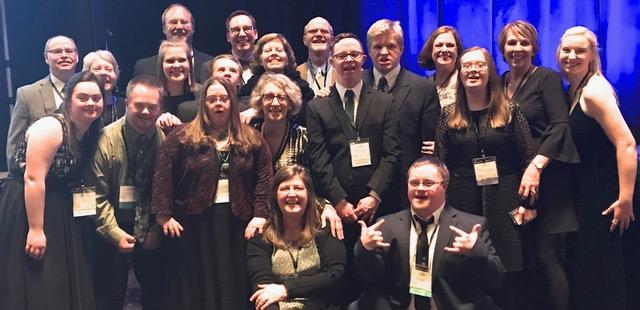 Luther Automotive Group was a key sponsor of the GiGi's Playhouse 8th Annual "i have a voice" Gala on February 9 at Renaissance Minneapolis Hotel, The Depot. The special evening included a silent auction, dinner, program, live auction and paddle raise all to support individuals with Down syndrome in the Twin Cities! This year's keynote speaker was Kayla McKeon, the first lobbyist on Capitol Hill with Down syndrome. Over 3,000 people attended the gala!
GiGi's Playhouse is a one-of-a-kind achievement center for individuals with Down syndrome, their families, and the community. GiGi's Playhouse serves infants through adults and offers more than 25 therapeutic and educational programs that advance literacy, math skills, motor skills and more; all of which are free of charge. GiGi's Playhouse makes a difference every day!
Down syndrome is the largest chromosomal disability in the US, and, yet, it is the least funded. From a prenatal diagnosis to career skills, GiGi's provides education and support. People with Down syndrome are truly capable of achieving as students, co-workers, volunteers, friends, and valued members of their communities.
To learn more, check out https://gigisplayhouse.org/twincities/